There was a deficit in public finances of 1.1 billion euros at the end of April.
This compares with a deficit of €7.6 billion in April 2021.
According to the latest Treasury data from the Treasury Department, the improvement in public finances means that in 12 consecutive months the deficit has been reduced to 800 million euros.
Gross revenue rose 16% or €4.2 billion to €29.9 billion in the first four months of this year compared to the same period last year.
Tax revenue increased by €5 billion or 31% to €21.1 billion compared to the same period in 2021.
Total spending fell by €2.4 billion to €31 billion.
Cumulative income tax revenue this year to the end of April was €9.5bn, up €1.5bn or 19% more than the same period in 2021.
The Department says part of the increase is due to the deferral of some income taxes due last year under Covid business support schemes.
Corporate tax collection was €400 million higher than in April 2021, but overall it is slightly less than triple the amount collected during the same period in 2021 at €2.3 billion.
Last month, the Department explained that this was, in part, because some large companies paid their corporate income tax in March instead of later in the year, as is customary.
April is not a VAT due month and last month's receipts were in line with April 2021.
However, cumulative VAT receipts amount to €1.4bn or 29% more than in 2021 at €6bn for the first four months of the year.
The Department says some of the wide disparity can be explained by a temporary VAT cut that was in place for part of 2021 and the imposition of Covid restrictions early last year that stifled consumer spending.
Finance Minister Paschal Donohoe said today's figures show the strong momentum in tax revenue has continued into the start of the second quarter.
"While year-over-year comparisons are distorted by a number of factors, notably the level five restrictions that were in place last year, underlying trends are a positive sign of the strength of the economic recovery," it said in a statement.
"It is also important to stress that today's figures are, of course, retrospective. We expect economic activity and public finances to be significantly affected by the war in Ukraine.
"We have faced many challenges in recent years: Brexit, Covid-19 and now the war in Europe. In each of these, this Government has shown our ability to be agile and responsive. We know that difficult times are ahead, but I also know that we face them from a strong position," said Minister Donohoe.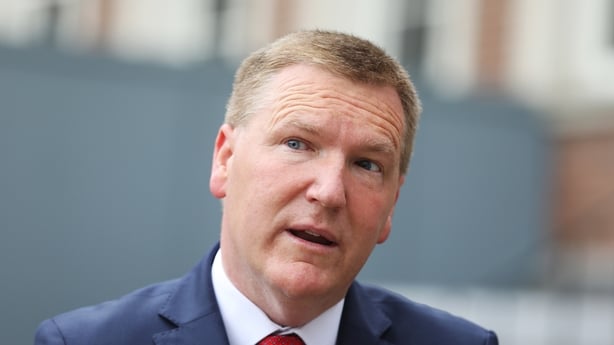 Meanwhile, the Minister for Reform and Public Expenditure, Michael McGrath, said that the Government continues to support the economy and public services with spending of more than 25,000 million euros in the first four months of the year.
"This is marginally below profile at €111m and €1.4bn less than the same period in 2021. This lower level of spending reflects the gradual dismantling of the labor market and business supports as Ireland exited the pandemic," he said.
"As of the end of April, Social Protection continues to show spending above the profile of €300 million, reflecting measures to support employees and businesses through the recent wave of Omicron infections.
"Department of Health spending is €0.1bn above profile, largely due to the ongoing response to Covid-19 in the sector," Minister McGrath said in a statement.
He said that government departments continue to respond to the Ukrainian refugee crisis.
"27,000 refugees have arrived in Ireland and are being provided with social care, health, education and accommodation where needed.
"While costs are still being determined as the number of arrivals increases, it is expected that these can be covered within the overall government spending ceiling in 2022.
"The recently published Stability Program Update provided €3 billion in funding to tackle the crisis in 2023. These costs will be examined as part of the Summer Economic Statement and Mid-Year Expenditure Report," he said. .