BUFFALO, NY – An 18-year-old white man charged in connection with the murder of 10 people who were shot in a racist attack at a Buffalo supermarket was yelled "cowardly" by a courtroom onlooker Thursday.
A handcuffed Payton Gendron wore an orange prison uniform and a face covering and was surrounded by half a dozen sheriff's deputies during his brief appearance in an Erie County courtroom.
A prosecutor announced that a grand jury had returned an indictment against Gendron on Wednesday, though it was not immediately clear what the charge was and how many charges are listed in the complaint.
The hearing, which lasted about four minutes, came five days after the suspect's arrest at Tops Friendly Market, a grocery store in a predominantly black neighborhood.
A judge ordered Gendron to remain in jail without bail.
"Payton, you are a coward!" a bystander, sitting in court among loved ones of the victims, yelled at Gendron as he was led out of court.
Gendron's defense attorney declined to comment outside of court Thursday and did not respond to messages left immediately after the hearing.
In a statement released after the hearing, Erie County District Attorney John Flynn confirmed an indictment had been filed, but prosecutors did not provide further details.
The "grand jury investigation is not complete" and prosecutors "cannot comment further until an indictment is filed in court after a full investigation," Flynn said.
Investigators have completed their evidence-gathering work at the market, Mayor Byron Brown announced Thursday afternoon.
Tops Friendly Markets President John Persons has promised the location will reopen without committing to any timeline.
The owners of King Soopers in Boulder, Colorado, reopened that market in February, some 11 months after 10 people were shot and killed on March 22, 2021.
The reopened Tops will include a memorial to those killed on Saturday, Persons said.
"I commit to you that we will do everything we can to get this store changed and open quickly and in a very respectful way," Parsons said, adding that his store will continue to operate shuttle services to nearby markets.
The suspect allegedly drove 200 miles from his home in Conklin, a small town in southern New York, to carry out the attack.
The victims have been identified as: Roberta Drury, 32; Margus Morrison, 52; Andre Mackneil, 53; Aaron Salter son, 55; Geraldine Talley, 62; Celestine Chaney, 65; Heyward Patterson, 67; Katherine Massey, 72; Pearl Young, 77; and Ruth Whitfield, 86.
Three other people were injured.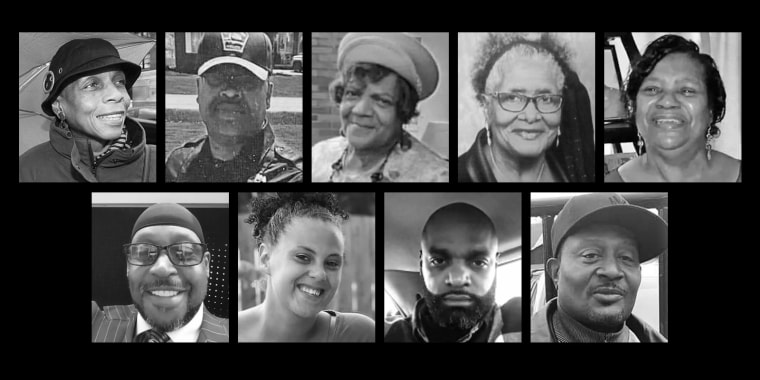 Salter, a former Buffalo police officer, was working as a security guard in Tops that day and returned fire, wounding the gunman, authorities said. But the gunman wore a tactical bulletproof vest, allowing him to keep shooting and kill Salter, authorities said.
The suspect is alleged to have published a 180-page document revealing plans to target black people while citing the racist "great replacement theory," which falsely says white Americans are being supplanted by non-whites through immigration, interracial marriage and, eventually, violence.
Many of the far-right activists who arrived in Charlottesville, Virginia, in 2017 chanted, "The Jews will not replace us," among other insults and bigoted slogans.
Katherine Koretski reported from Buffalo. David K. Li reported from New York City.