Bank of Ireland has reported underlying profit before tax of €419 million for the first six months of 2022.
It was lower than the €465 million reported at the same time last year.
Net profit of €279 million was lower than the €341 million in the same period last year.
The bank booked an expected bad loan impairment charge for the first six months of the year of 47 million euros, reflecting what it called an "uncertain environment."
Its non-performing loan ratio now stands at 5.4% of its total loan portfolio.
Total revenue and interest income were marginally higher in the first six months, but operating costs were also higher reflecting the acquisitions.
Bank of Ireland completed the acquisition of stockbroker Davy in June.
The bank said that had the acquisition been completed earlier in the year, an underlying profit of €12m would have emerged in the first six months reflecting revenue of around €86m and costs of €74m.
He said a similar performance was expected for Davy in the second half of the year.
We need your consent to load this content from rte-playerWe use rte-player to manage additional content that may set cookies on your device and collect data about your activity. Please review your data and accept it to load the content.Manage preferences
The volume of loans to clients stood at 74.6 billion euros at the end of June, 1.7 billion euros less than the position at the end of December.
New loans increased 7% compared to the first six months of last year.
Deposits of €94.1bn were up €1.3bn from December.
Commercial revenue excluding Davy rose 16% compared to the first six months of 2021, which it said reflected improved momentum.
The bank said it was "positively oriented" to higher interest rates.
Like its peers, the Bank of Ireland chose not to pass through the ECB's recent 0.5% interest rate hike to fixed or variable rate mortgage products.
The bank confirmed that it was ending its policy of charging negative interest rates on deposits above €1 million to reflect the ECB's decision to bring its deposit rate to zero.
"We delivered a strong business performance in the first half of 2022, as we continue to make clear progress on our National Champion Bank strategy," said Francesca McDonagh, Bank of Ireland Group Chief Executive.
"Despite global uncertainty, the sea change we have achieved in our business model makes the Bank of Ireland well positioned to capitalize on the significant opportunities we face, further supported by a rising interest rate environment," he added. .
Ms. McDonagh announced in April that she would step down as chief executive of the bank in September to take up a position at Credit Suisse.
"The Board is well advanced in the process of appointing a full-time successor," said Patrick Kennedy, Chairman of the Bank of Ireland Group.
He added that the bank hoped to appoint an interim CEO to cover the period from Francesca McDonagh's departure until a new CEO is appointed.
"The Board's focus remains on executing and delivering the significant business opportunities available to the Group," said Mr. Kennedy.
The outgoing CEO of the Bank of Ireland told Morning Ireland that the bank had no plans to make any of its branches cashless.
AIB recently backtracked on a decision to make 70 of its 170 branches cashless saying it had gone "too far, too fast".
Ms McDonagh said the bank saw branches, contact centers and digital as essential ways of serving customers.
"It's never been all one and none of the other," he said.
"Although the use of cash is declining, there is still around €12bn of cash in the Irish economy that has been traded and that is why we continue to have branches that hold cash," he added.
Asked if the bank had plans to close more branches in addition to the 88 branches it closed last year, McDonagh said there were no such plans, but said it was "impossible to be definitive about the future."
"We adapt to changing customer behaviors," he said.
Bank of Ireland operates around 170 branches across the country.
Last month, the European Central Bank raised interest rates by 0.5%.
Asked if the Bank of Ireland will pass on this or any other rate increases to new fixed and variable customers, Ms McDonagh said they have made no announcements or changes to fixed or variable rates since the ECB's announcement.
"Obviously we keep all of our rates under continuous review," he said.
"It is not appropriate for me to make price indications for the future, but what I can say is that any change in rates will always be communicated in a clear and timely manner to our customers," he said.
Today's figures show that the Bank of Ireland has opened more than 110,000 current accounts in the first six months of the year, up more than 100% from the same period last year.
It comes as customers continue to switch banks ahead of the withdrawal of Ulster Bank and KBC from the Irish market.
Asked if the Bank of Ireland has enough staff to cope with the influx of new clients, Ms McDonagh said, "absolutely, yes."
"Part of our results today reflect a total investment of 30 million euros that we will make in 2022 to invest in the change.
"We have 650 people in total supporting customers and ensuring our service levels for existing customers are protected," he said.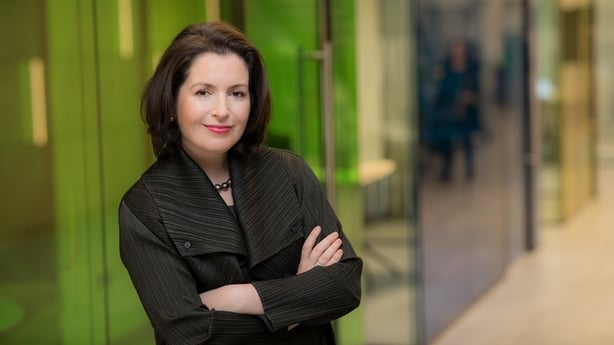 In April, it was confirmed that Ms. McDonagh will take over as CEO of Credit Suisse's Europe, Middle East and Africa region in October.
Speaking on Morning Ireland, Ms McDonagh, who draws a salary of around €960,000 with the Bank of Ireland, said a number of factors went into her decision to leave the bank.
When asked if the Irish bankers' pay cap was one of those factors, he said it was not a "major factor".
"I have spent five years at Bank of Ireland, it has been a personal and professional privilege.
"Pay is a factor, it's not the only factor, but more generally it would have put pressure on the Irish government to lift pay restrictions," he said.
"It's about the constraints our 9,000 colleagues face in terms of benefits, any variable pay grades that help incentivize and reward colleagues for doing exceptional things for our customers and shareholders," he said.
Ms. McDonagh said she will continue to push for changes in this regard until her last day on the bench.
She said she believes these restrictions are a competitive disadvantage for the Bank of Ireland, which is on the cusp of private ownership but still has restrictions.
Bank of Ireland currently has a number of senior vacancies to fill.
Asked if a salary of €500,000, which is within the salary cap, is not enough to attract talent to the Irish banking scene, Ms McDonagh said she understands that a salary of half a million euros is a "huge amount of money". .
"It is not that people do not find a salary of half a million euros attractive, it is about 9,000 colleagues who do not have benefits such as private health, or the ability to have a degree of variability depending on their results.
"I would love to be able to differentiate a branch manager who provides excellent service to our customers every day and I can't do that and any other bank in Ireland that isn't Irish can do that, and we would see that as a competitive disadvantage," she said. .
Additional reporting by Gill Stedman