One swallow does not make a summer, they say.
And in the world of economics, one set of monthly numbers certainly doesn't set a trend.
But today's Central Bureau of Statistics consumer price inflation data for July raises an interesting question.
With an annual rate of 9.1%, the same as the previous month, have runaway costs in Ireland reached their peak?
Context, however, is everything.
Regardless of whether or not inflation has peaked, we should not lose sight of the fact that, at 9.1%, the rate at which the cost of living is increasing remains at a 38-year high.
So, peak or no peak, it is extremely high and will remain so for some time.
We must also remember the complicating factor of "base effects".
When it comes to judging how fast or not the cost of living is rising, percentages don't tell the whole story.
Because a lot depends on the base from which inflation is measured.
Peak or no peak, inflation is extremely high and will remain so for some time.
Today's CSO data compares July of this year with the previous one.
But to understand the true change, we really need to look at the actual price levels at the point they are being compared to, in this case July 2021.
And back then we were still feeling the suffocating effects of the pandemic, with reduced demand having an artificial suppressing effect on some prices.
This could be skewing the data a bit; it is not entirely clear to what extent.
But with all of that firmly in mind, can we say with any confidence that we have reached the top of this particular inflationary cycle that is causing so much hardship for so many?
According to Gerard Brady, chief economist at employers' organization Ibec, it's too early to tell.
There really is a reason for this and that is energy.
It is currently the big driver of inflation in almost every sector of the economy right now, particularly food and transportation.
In fact, when its effects are excluded, inflation actually stands at a slightly more modest 5.9%.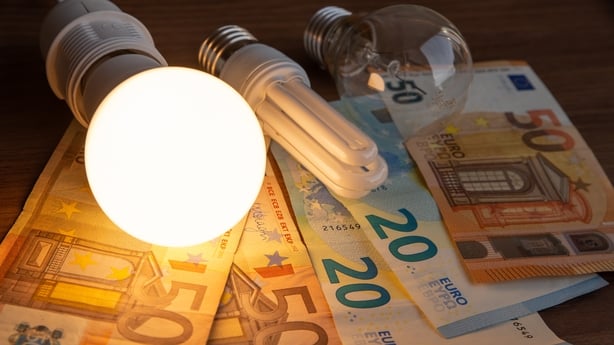 It is not clear what will happen after energy prices.
Oil prices have softened somewhat in recent weeks due to weaker global demand due to fears of a recession and this may have contributed to today's flat inflation figure.
But the concern is that if Russia continues to squeeze gas supplies in Europe and elsewhere, energy prices could soar again.
"We are still in a period of great uncertainty over the winter and we may not have peaked yet," Brady said.
"If gas flows continue to come to Europe on the basis that they are coming, you might see some kind of normalization and things start to ease up a little bit, because the base effects wear off," he said.
"But if there are ongoing tensions and Russia continues to cut gas supplies, Europe could see the numbers holding up well through the winter," he added.
The other factor is that, due to seasonality, we're not using as much energy right now as we will in the next few months, but once we get to October and November, everything will change.
"That's when the big tipping point will come," Brady said.
"The inflation numbers could potentially level off in the coming months. People will only start to really feel the inflation numbers when they turn on the gas because that's when the price increases will really cost them on their household bills."
Ibec has forecast inflation to peak at 9-9.5% sometime over the next two months and average 7.5% for the year.
It would be foolish to think that the worst is over
But the central bank has forecast it could hit double digits before the end of the year before pulling back, averaging 7.8% for the full year.
Of course, there are other factors that could influence a further upward trajectory of prices, one of which is wages.
So far, earnings growth in the economy has been relatively subdued, despite many unions and worker representative bodies calling for wage increases to offset rising costs of living.
In the year to the end of March, average weekly earnings rose just 2.3%.
But if that were to change, and we can expect it to to one degree or another, then we could find ourselves in the grip of a wage-price spiral, with profit-seekers chasing sky-high prices.
Housing is also affecting inflation and when the annual rate is excluded it falls to 9%.
Almost every day we hear more bad news about the availability of houses to rent and buy, and this worsening of the situation, along with the increase in mortgage rates in the coming months, will undoubtedly drive housing costs higher.
The reality, therefore, is that while today's inflation figures may provide some optimism, it would be foolish to think that the worst is over or even over.
Indeed, the summer swallows are more likely to have flown far into southern Africa before we know whether the challenge of inflation has eased.